If you would like to fully develop your business in the field of GPS monitoring, decide for any of the partnership programs My Brand or My Brand PRO.
Your brand is the key for both partnership programs. Thanks to them you can your brand among your customers.
In the frame of the cooperation you can rely on the free upgrades and enhancements of GetPosition applications. We offer to the partners also the partner console free of charge ,which serves to manage customers, GPS devices and individual transactions.
My Brand
Partner Program My Brand ensures that GetPosition adapt your brand. What does it mean?
All Apps will be replaced with the original Logo GetPosition by Logo of your company. Your customers will additionally log on to the web application under your domain.
In addition, My Brand allows to create your own tutorial, business conditions or description of the company within Apps. How would the GetPosition Apps with your Logo look like, you can try via Partner Console. Here you can set all the necessaries, enter your test mail which you subsequently log on to the application with. In this way you can try My Brand still before purchasing.
How to earn with the program My Brand ?
For each purchased PRO services (log book and / or notification) by your customers, you get commission in the agreed amount. This commission shall be up to 40% of the service.
You can also buy PRO services for your customers via Partner Console. In this case you have better prices for PRO services.  If you sell GPS locators with PRO services as a "package", or a comprehensive supply solutions including SIM card, then you can set your own prices.
There is one time fee for partnership program My Brand. The current price list is available on our website for Partners.
My Brand PRO
In case of partnership program My Brand PRO, you will gain all the possible advantages from the program My Brand:
Your own Logo in the applications GetPosition
HTML 5 web applications on your own domain
Your instructions, texts about the company, terms and conditions , etc. in the applications GetPosition
What do you get extra?
The main advantage of My Brand PRO is the own price list for the end users. It is only up to you, what prices you specify for the service that you offer to your customers. This way you can offer to your customers the PRO services GetPosition including SIM card with data package.
GetPosition adapts even more – for example, you can define and customize e-mails as you need. This allows you to use your own templates and create your own email content. If you have this partnership program My Brand PRO, the customers will meet exclusively with your Brand. They will meet The GetPosition only once by the downloading from a mobile app from the AppStore or Google Play.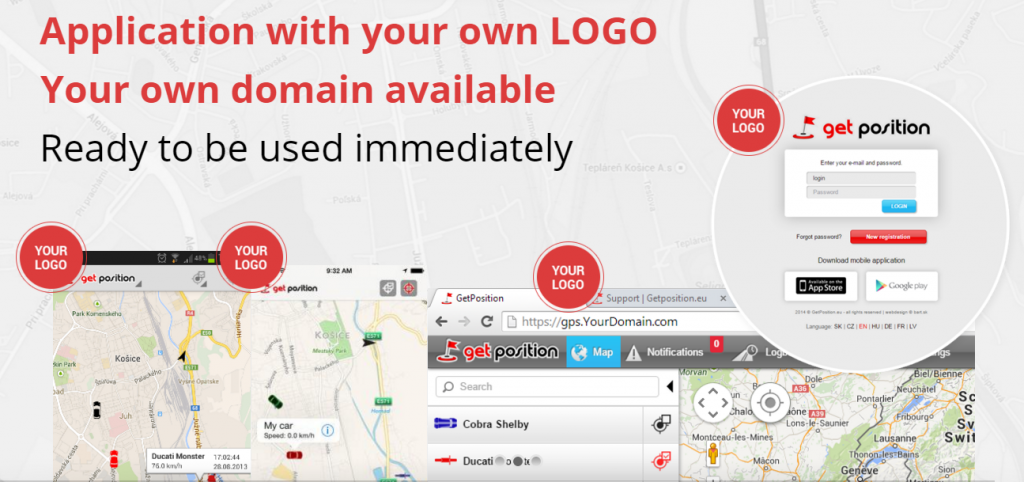 How to earn with the program My Brand PRO
A key advantage of My Brand PRO is that all payments made by your customers are paid directly to you. In the applications your customers buy services at prices that you have set in your own price list for end users. Payment for PRO services GetPosition then takes place by agreement between the partners and GetPosition through an account in the Partner Console. The only requirement is to have a sufficient credit on the account in the Partner Console. When there is a purchase of services by your customers, the payment is automatically remitted to your PayPal account. Consequently, the amount will be deducted according to the price list of your partnership account in a Partner Console.
The partnership program My Brand PRO is also one time fee. The current price list is available on our website for partners.
Who is this partnership program My Brand PRO for?
For partners who decided to build their own brand and assets of the enterprise market GPS devices. With the partnership program My Brand and My Brand PRO you gain the unique advantage – the own brand for all services GetPosition.
| | My Brand | My Brand PRO |
| --- | --- | --- |
| One Time Fee | ✔ | ✔ |
| Partner Console for management of your GPS devices, Customers, SIMs... | ✔ | ✔ |
| Your LOGO and info about your company in Apps GetPosition | ✔ | ✔ |
| HTML5 Web App on your domain | ✔ | ✔ |
| Updates of GetPosition Apps for free | ✔ | ✔ |
| Priority Technical Support | ✔ | ✔ |
| Commission from PRO services | ✔ | ✔ |
| Purchasing of services via Partner Console | ✔ | ✔ |
| Your Price list for your customers in GetPosition Apps | | ✔ |
| Payments for PRO services directly to your account | | ✔ |
| Your own email templates | | ✔ |